A natural born performer, she made her debut at a charity fundraising do (organised by her lovely sister) for One World Action, with a band featuring Neil Kinnock, whilst Alan Rickman and Emma Thompson read love poems!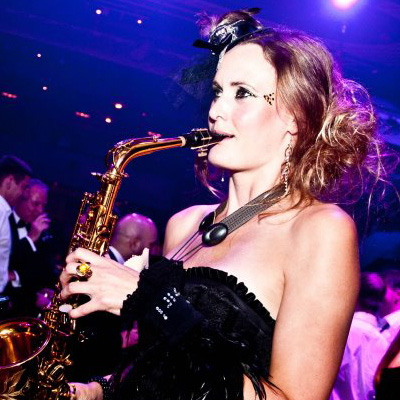 Since age 10, Heather's talents in sax, flute, uke and effervescent jolly-ness have given her a passport to a kaleidoscope of wonderful experiences and encounters. From composing in the Brazilian rainforest for Universal to cavorting with jazz legends in Harlem, she's gained a plethora of practical skills that are now deployed at Wheathill HQ. As colourful as her adventures are the artists she's met, played and giggled with, hence our mighty network of fabulous and loyal artists. Long live a life less ordinary!
Practically speaking
Heather oversees the artistic quality control and direction, ensuring that Wheathill only works with high calibre artists, and that the acts provided fit our clients' requirements to perfection. She also spots and selects new talent, and co-ordinates the technical and production requirements.
Heather regularly performs as a solo artist and band leader, playing at venues including Ronnie Scott's, the Globe Theatre, Kensington Palace, the South Bank Centre and the Royal Opera House. She's also tripped the light fantastic at an enviable list of international locations such as Sydney Harbour for Richard Branson, the global Grand Prix circuit and a European Tour with the Guillemots, to name a few.
In her own words
"The first time I got a stonkin' great honk out of a sax I knew I'd found my true voice. Making music with my pals around the world has brought me more fun and frolicks than anything the Careers Advisor had in mind for me. Now I'm working with my best friend too!"
Big loves
Chocolate. Being silly. Hats. Betty the campervan. Doing crazy brave things like hanging off mountains and surfing. Posh frocks. Stick-on moustaches. Discovering amazing new talent. Being very tall then wearing six inch heels. Polar bear suit.